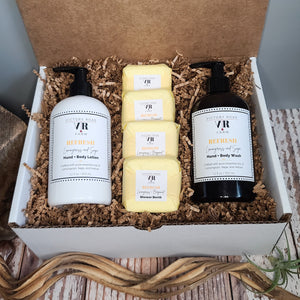 Prepare to be pampered with our REFRESH Lemongrass and Sage Lotion, Wash + Shower Bomb Trio! Our REFRESH Hand + Body Wash and Lotion are scented and enhanced with an exclusive blend of pure essential oils of Lemongrass, Sage, Vetiver, Lavendin, Pine Needle, Atlas Cedar, Jasmine and Cardamom, offering a clean, slightly spicy, invigorating aromatherapy experience through carefully selected plant-based ingredients and the luxurious feel of genuine essential oils. Our REFRESH Shower Bombs are hand-crafted with Lemongrass, Bergamot, and Sage essential oils, further enhancing your at-home spa experience!
Includes: one 12 oz. bottle of REFRESH Hand + Body Wash, one 12 oz. bottle of REFRESH Hand + Body Lotion, and four REFRESH Shower Bombs. Tucked in a VRF gift box with kraft crinkle filler, this wonderful gift is sure to please any Lemongrass lover! 
Please view individual items for additional product details, ingredients, and usage instructions.