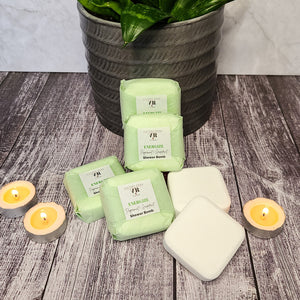 Get ready to turn an ordinary shower into an invigorating yet also incredibly relaxing aromatherapy experience with an ENERGIZE Shower Bomb! Our Victory Road Farm Shower Bombs are a perfect aromatherapy bath bomb alternative for those of you who prefer a shower over a bath, or if you do not have a bath tub. The hot, running water and soothing essential oil vapors are a perfect tension reliever, no matter what time of day.
Our ENERGIZE Shower Bombs combine the power of Peppermint, Pink Grapefruit, and Rosemary pure essential oils, to help provide you with tension relief, sinus relief, and impart an overall uplifting feeling. To use, first run the hot water in your shower to create some steam, then place the unwrapped Shower Bomb on the floor of your shower away from the direct stream of water. Allow it to get slightly wet to activate the fizz. Step inside, and let the therapeutic vapors stimulate your senses. 
DETAILS: 
Our Shower Bombs are created with love by hand, in small batches. They may vary slightly in appearance and are delicate, so please use care when unwrapping your Shower Bomb and placing on the floor of the shower.

We recommend placing the Shower Bomb on the floor in front of you out of the direct stream of water, but within 12-18 inches for the best aromatherapy experience.

Weight- a minimum of 2.5 ounces per Shower Bomb.

Use one Shower Bomb per shower. 

We recommend storing your Shower Bombs in an airtight container out of direct sunlight to best preserve them.

Do not submerge your Shower Bombs in a bathtub, as you would a bath bomb. Shower Bombs contain a much more generous amount of essential oils, and could harm the skin with direct contact.
INGREDIENTS: Sodium Bicarbonate, Citric Acid, Mentha Piperita (Peppermint) Oil, Citris Racemosa (Pink Grapefruit) Oil, Rosmarinus Officinalis (Rosemary) Leaf Oil, Witch Hazel